You are tired of the classic presentations or product displays that look like a dime a dozen. Do you want to communicate your products in a way that stands out and showcase them in a magical way?
​
We have the solution that can meet all your expectations, with this interactive and immersive table.
​
Thanks to a perfect synchronization between the product, the content displayed on the screen, and the interactivity, users will have an extraordinary experience
​
Take a closer look at our models
Compact Means Mobile
The IMMERSIVE model is LARGE... and size matters. Your table will be hard to ignore with its unfolded dimensions of about 150 x 120 x130 cm and is a beacon of attention at tradeshows.
But before and after the show, size matters too. Large Consoles are challenging to transport, store, and sometimes even simple to pass through the door. Therefore we build a motorized, one-button solution that will have the table fold and unfold in a matter of seconds.
​
With a folded depth of only 70 cm, it will pass through any standard door and is easy to transport and ready to deploy.​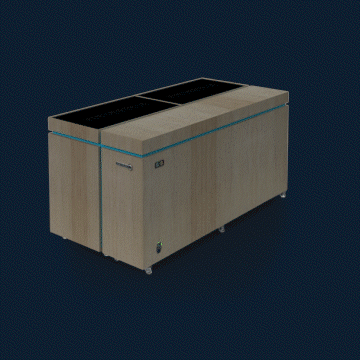 the More the Merrier
Our Experience model is a real crowd-pleaser. Its large size and multiple touch screens allow this table to inform and entertain more visitors at a time.
​
But it is also very practical. It arrives in a simple box shape and with a click of the button, it transforms itself into a fully interactive table.
And after the tradeshow...? no hassle or deconstructing anything just a single press of the button, it's back to its easy to transportable size.
Compact and Practical
Who would have thought you would get so much out of a "small" package.
​
Our little compact CUBE transforms into a full-fletched table with the click of a button. Ready to go and impress in seconds.
​
But when the show is over and you are ready to disassemble your stand, your COMPACT "little" TABLE folds back into its traveling size in the blink of an eye. The true travel companion for those who do a multitude of tradeshows and know the value of time.
​
A table like no other!
Serve and Protect
The Immersive table has you covered, literally...
Our largest table has a top cover that serves 2 goals:
Serve: Very often, stands are lit by bright lights mounted on the high ceiling above those stands. These lights have a side effect that they "flood" the 3d printed model with white light, therefore, diminishing the visual impact. the cover casts down a shadow protecting the miniature models to make them shine
​
Protect: With a beautiful and large 4K or 8K screen in our tables we really don't want to take ANY risk, especially during transport. The Top cover folds over the screen to secure and enclose the screen as much as possible.
​
Why chose between form or function if you can have both
A New Horizon
Like the touchscreens at the front of our EXPERIENCE model, you find a large dual panel screen showing you a 32:9 ratio. This Dual panel can serve as one huge horizontal screen, but it does not stop there. Each of the panels can be controlled separately, mirroring each other or each showing individual content. This can be useful when more users control the table at the same time, or if on one screen you would like to show a movie while on the other screen text. the possibilities are endless.
​
So, let our EXPERIENCE model broaden your visitors minds!
With its two 4K touchscreens , both the EXPERIENCE and the IMMERSIVE table can handle more then one user at a time.
But that is just the tip of the iceberg... as all screens are synched up, we can create an immersive experience using the back screen and both front screens simultaneously.
The effect is breathtaking.
Immersive Interactive MAGIC
Magical Small World
It is mesmerising to see how something so small can feel so reel. The "Magic" we use is trifold. First, we only create super high-end, ultra detailed 3D printed miniature models that are placed in the space between the front screen(s) and back screen(s).
Here we add the SECOND sparkle of "magic". With our proprietary techniques, we match and project layers of animated textures on the bare white 3D printed model that makes them come to life. As our textures are not "fixed" images but high definition films, you can for example see the waves in the sea, or a shadows move as the model goes from day to night time.
And then there is the THIRD and maybe even the most important facet. It is all interactive and synced up to all the other content in the table. It is as if YOU controle the world... a tiny world
Finding the perfect screen
Not all screens are created equal. Some screens are made for daily use others for 24/7 "always on" use.
We choose our components carefully, to give optimal performance, in color, size and frame-rate. As technology of monitors and televisions evolve so do we to offer you the most flexibility when composing your perfect table. Technology Based Magic will analyse your needs and will propose the equipment that fits your needs and budget.
IMMERSIVE is not just a buzz word, its the experience you and your customers remember for a long time! with its large 3D printed, camera projected model, its 2 frond touchscreens and its LARGE 8K backscreen. This table will push the limits in what you think was possible. A perfect blend between entertaining and informing your clients.
​
And when you are all done... with a click of a button it folds back on it self, reducing it size, so it's easy to transport, ready for the next event!
EXPERIENCE is the KEY to not only attract and engage with clients, but also the way to leave a memorable impression.
This table is build to attract A large crowd. With its double 4K touchscreens at the front it is ideal for entertaining larger crowds at once.
and with its panoramic large area 3D printed model and double widescreens (2x4 or 8K) all perfectly synched together. It is a spectacle to watch and the perfect way to attract and inform your clients!
Compact means you are ready in seconds, no matter where or when. But don't let it's size fool you. This compct model has everything from 4K touchscreens, a 4 or 8K backscreen and a fully integrated 3D printed model space with our AAT (Advanced Animated Texture) technology.
​
Giving you the best where ever you are!
Sometimes size does matters! A large console or table attracts the people's attention, and a small console or table costs less to transport. We say why chose if you can have both!
​
At Technology Based Magic we have created a super simple 1 button solution to this problem. Our motorised tables unfold (and fold back) in the blink of an eye. Making transport and storage a lot cheaper (and a lot less of a hassle), yet being uncompromisable on the design, content and the presents at your trade show booth.
​
​
Small things come in big packages
Have a look at the way we miniaturise your world
The space between the screens is as important as it is a WHOLE NEW WAY of communicating. At Technology Based Magic, we create, 3D model and 3D print anything you can imagine. From 3D reconstructions of areas and buildings to prototypes of products and even mechanical moving parts.
​
And it DOESN'T stop there!
We love to add a
"touch of MAGIC".
​
We created an advanced technique of camera mapping that will bring your products to LIFE. With AAT (Advanced Animated Textures Projection) your customers can not only change the material or color of your product or display, they can also see a whole animated world around it. Imagine seeing the sun rise and set, the shadows slide over your product , the inside of your product projected on top of it creating the illusion of seeing inside of it, or anything else you might wish or can imagine...
​
"We don't just create amazing looking consoles,
but also push the limits of its content."
Have a look at what we build
and what is yet to come...
These consoles are the perfect balance between function and form.
We create a blend of different technics (for example 3D mapped miniature models, touch screens, holograms, 360 degrees film, and interactive content) and harness it in a beautifully designed console. Simple to install, simple to use and with a maximum impact.

The hardest thing is to design something that is intuitive to use and yet takes care of all our clients' needs.

All our consoles are within the public security norms and are built to last. We use high-quality materials that are durable, aesthetically pleasing and easy to clean.

​