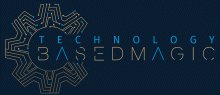 We provide communication solutions, interactive and visual experiences to international companies willing to enhance user experience and customer loyalty.
​
Touchscreens, holograms, 3D printed miniatures, and interactive console production are just a portion of our repertoire, as we interact with each of our customers personally and frequently making your desired image and experience come to life.

We believe that we can create ways to bring wonder and a hint of magic in the world of corporate communication, luxury brands, museums and fan experiences
Our communication products are unique and exciting, with tailor-made content to attract and stand-out in showrooms, trade fairs, luxury stores, galleries, museums and VIP Lounges
We are trusted by these great organisations.
Head of External communication
TotalEnergies
Chef de mission développement et communication chez Enedis
"... Technology Based Magic created for us an immersive table so complete, that it allows us to not only to communicate how our clients experience our gas stations today but also perfectly captures and communicates our vision of the future..."
"..Thanks to TBM for creating our "city of tomorrow" interactive table, dedicated to the education of the energy transition ..."

"..The result is stunning and has attracted visitors from all over the world to our showroom at Enedis ... "
1/2
"...We got what we wanted
and so much more..."
"...we became the centerpiece
of the convention..."
"...beyond expectations..."
*Rated over 67 client reviews